Companion Care
Friendship, conversations, and help with the ins-and-outs of everyday life.
Friends That Go the Extra Mile
Growing older can be difficult, and sometimes aging can lead to feelings of loneliness and isolation. Whether it's because a spouse or good friends have passed away, grown children have moved, or due to circumstances beyond their control like COVID-19, seniors may lose out on the social networks that they once enjoyed. Senior Check-In helps fight feelings of loneliness and isolation by providing emotional, social, and practical support that only a real human being can provide.
Companionship Care 101
Companion care goes beyond listening, laughing, and spending quality time. It can also involve helping with routine tasks around the house and with everyday affairs like light housekeeping and errands.
More Info
In-home care provides important friendship and companionship for those who lack the ability to participate in social settings due to age or health.
More Info
Preventative or proactive in-home care means keeping an eye out for hazards and conditions before they develop into larger and potentially more serious issues.
More Info
From grocery shopping to meal prep and other daily living activities, our caretakers are here to assist and engage with our clients in ways that make a difference.
Personable
Real people providing real, compassionate care and companionship to those that need it the most.
Professional
On time, on point, and on a mission. Our network of professional caretakers go to work with a common goal of providing the best service possible.
Dependable
Day or night, rain or shine, you can count on Senior Check-In to be in your corner and help lighten your personal and emotional load.
Ready to Get Started?
Schedule your risk-free consultation with a companion care specialist today.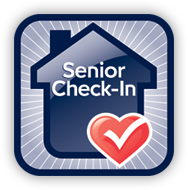 Contact Info
Address
14074 Trade Center Dr, STE 147 Fishers, IN 46038
Phone
855-420-1200
Inquire About Care or Ask a Question